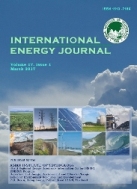 Editor
Prof. S. Kumar
Associate Editor
Dr. P. Abdul Salam
Assistant Editor
Maria Kathrina B. Gratuito
Published by:
REGIONAL ENERGY RESOURCES INFORMATION CENTER (RERIC)
Department of Energy, Environment and Climate Change
School of Environment, Resources and Development
ASIAN INSTITUTE OF TECHNOLOGY
P.O. Box 4, Klong Luang
Pathumthani 12120, Thailand
E-mails: rericjournal@ait.ac.th; rericjournal@ait.asia
Description:
The International Energy Journal is  quarterly publication published by RERIC in March, June, September and December of each year. Papers on technological, socio-economic and environmental aspects of energy economics and planning, energy conservation, and renewable energy resources (biomass, solar, wind, and small-scale hydropower) are published. The IEJ, indexed in the Scopus title list, is the only Energy-category focused international journal published in Thailand. It is also listed and ranked in the SJR (SCImago Journal and Country Rank).
The International Energy Journal (IEJ) is also included in EI Compendex Journal Source List for February 2017 (Compendex Database of Engineering Information, Inc.). 
Biblographic & Ordering Information (MEMBERSHIP FORM)
ISSN: 1513-718X
Imprint: RERIC
Commenced Publication: 1979
Audience:
Energy researchers, planners, Industry, energy users and producers.
Announcements
Journal: Open access to the full archive of IEJ

The International Energy Journal (IEJ) of the Asian Institute of Technology  is proud to share with its readers the full archive of its articles dating back from its founding year in 1979 when the journal was still named as Renewable Energy Reviews Journal.

You may check the downloadable PDF file of the published articles from the link below. Proper citation is requested.  

http://www.rericjournal.ait.ac.th/index.php/reric/issue/archive

Note: From year 1988 to 1999, the IEJ was formerly known as the RERIC International Energy Journal. 

Posted: 2017-04-18
More...

Journal: List of Reviewers (2016)

The International Energy Journal (IEJ) sincerely expresses gratitude to the following individuals who took time to review papers submitted to the journal. Without their patience, Volume 16 (Issue 1-4) 2016 of IEJ would not have been possible.
Posted: 2017-03-14
More...

Journal: UPDATED Author's Guideline

Very Important

Posted: 2008-01-19
More...

Journal: Journal Library Recommendation Form

Download our Recommendation Form
Posted: 2008-01-08
More...
Volume 17, Issue 4, December 2017
Table of Contents
Articles
| | | |
| --- | --- | --- |
| | Rotelak Preecha, Suthin Wianwiwat | |
| | | |
| --- | --- | --- |
| | Wuttipan Kiatruangkrai, Ekachai Leelarasmee, Wararak Vongdoiwang Siricharoen, Paralee Maneerat | |
| | | |
| --- | --- | --- |
| | Som Nath Saha, Suresh Prasad Sharma | |
| | | |
| --- | --- | --- |
| | S. Mallikarjuna Reddy, V. Sandeep, M. Sreekanth, Joseph Daniel | |
| | | |
| --- | --- | --- |
| | Krittapas Kongkapisuth, Wirachi Roynarin, Decha Intholo | |
| | | |
| --- | --- | --- |
| | Gu Bo, Hu Hejuan, Huang Hui, Ren Yan | |