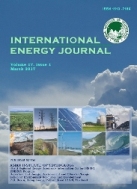 Editor
Prof. S. Kumar
Associate Editor
Dr. P. Abdul Salam
Assistant Editor
Maria Kathrina B. Gratuito
Published by:
REGIONAL ENERGY RESOURCES INFORMATION CENTER (RERIC)
Energy Program
Departemnt of Energy, Environment and Climate Change
School of Environment, Resources and Development
ASIAN INSTITUTE OF TECHNOLOGY
P.O. Box 4, Klong Luang
Pathumthani 12120, Thailand
E-mails: rericjournal@ait.ac.th; rericjournal@ait.asia
Description:
The International Energy Journal is  quarterly publication published by RERIC in March, June, September and December of each year. Papers on technological, socio-economic and environmental aspects of energy economics and planning, energy conservation, and renewable energy resources (biomass, solar, wind, and small-scale hydropower) are published. The IEJ, indexed in the Scopus title list, is the only Energy-category focused international journal published in Thailand. It is also listed and ranked in the SJR (SCImago Journal and Country Rank).
The International Energy Journal (IEJ) is also included in EI Compendex Journal Source List for February 2017 (Compendex Database of Engineering Information, Inc.). 
Biblographic & Ordering Information (MEMBERSHIP FORM)
ISSN: 1513-718X
Imprint: RERIC
Commenced Publication: 1979
Audience:
Energy researchers, planners, Industry, energy users and producers.
Announcements
Journal: List of Reviewers (2008)

The International Energy Journal (IEJ) sincerely expresses gratitude to the following individuals who took time to review papers submitted to the journal. Without their patience, Volume 8 (Issue 1-4) 2008 of IEJ would not have been possible.

Posted: 2009-06-02
More...

Regular and Special Issue of IEJ

There are two issues of IEJ for March 2008. These are the Regular and the Special Issue
Posted: 2008-03-06
More...

Journal: UPDATED Author's Guideline

Very Important

Posted: 2008-01-19
More...

Journal: FREE Issue!!!

FREE Issue of International Energy Journal

Posted: 2008-01-08
More...

Journal: Journal Library Recommendation Form

Download our Recommendation Form
Posted: 2008-01-08
More...
Volume 16, Issue 3, September 2016
Table of Contents
Articles
| | | |
| --- | --- | --- |
| | Mohammad A. Akkawi, Farid B. Chaaban | |
| | | |
| --- | --- | --- |
| | Mostafa M.S. Ahmed, Ali K. Abdel-Rahman, Mahmoud Bady, Essam Mahrous | |
| | | |
| --- | --- | --- |
| | S. Narendiran, Sarat Kumar Sahoo, Raja Das | |
| | | |
| --- | --- | --- |
| | Abhishek Priyam, Prabha Chand, Suresh Prasad Sharma | |
| | | |
| --- | --- | --- |
| | Som Nath Saha, Suresh Prasad Sharma | |